6.6 Million Filed for Unemployment Last Week
The data on last week's unemployment claims is in, and it ain't pretty.
Last week we learned that 3.3 million filed for unemployment benefits (which means that more than 3.3 million became unemployed, because self-employed individuals aren't eligible for unemployment) from March 15th-21. Sixteen percent of the labor force works in a profession that doesn't qualify them for unemployment insurance.
Now we're learning that from the 22nd-28th, an unbelievable 6.6 million filed for unemployment.
As reported by Fox Business:
The number of Americans filing claims for unemployment benefits surged to more than 6.6 million last week, breaking a record high for the second week in a row as more states and cities enforced strict stay-at-home measures in an attempt to stop the coronavirus pandemic.

That brings the total number of Americans who filed for unemployment over the past two weeks to nearly 10 million, a stunning sign of the colossal economic damage inflicted by the outbreak.

"Four years of job gains have evaporated in the span of two weeks," said Daniel Zhao, senior economist at Glassdoor. "Today's report is a one-two punch for an economy reeling from the coronavirus outbreak. As more states and localities shut down non-essential businesses to preserve public health in response to the coronavirus outbreak, initial claims are likely to continue to produce eye-popping reports."
When viewed graphically, it's clear that there is no historical comparison when it comes to shedding this many jobs so quickly:
Unsurprisingly, the latest poll out of Rasmussen Reports found that a plurality of voters worry the cure to the coronavirus could become worse than the virus itself.
It is extremely likely that the economy is already in a recession, but not all recessions are created equal. This recession more reflects the economy being put "on hold" for a few months, with stimulus legislation acting more as a band aid to mend the gap as financial time is paused (as opposed to solely boosting aggregate demand). Ideally, most of the recently laid off will simply be rehired by the same companies that laid them off once we're out of quarantine, as some demand will simply pushed into the next quarter. Of course, many firms won't survive long enough for that to happen.
Former Federal Reserve Chairman Ben Bernanke argued that this recession will resemble one caused by a natural disaster, stating that "This is a very different animal than the Great Depression. The Great Depression, for one thing, lasted for 12 years, and it came from human problems: monetary and financial shocks that hit the system." By contrast, he said that the coronavirus crisis is "really much closer to a major snowstorm or a natural disaster than it is to a classic 1930s-style depression," predicting a sharp recession and quick recovery.
The latest projections out of Morgan Stanley indicate that over the next couple of years, the economy will be about two-quarters behind where it otherwise would've been without the pandemic.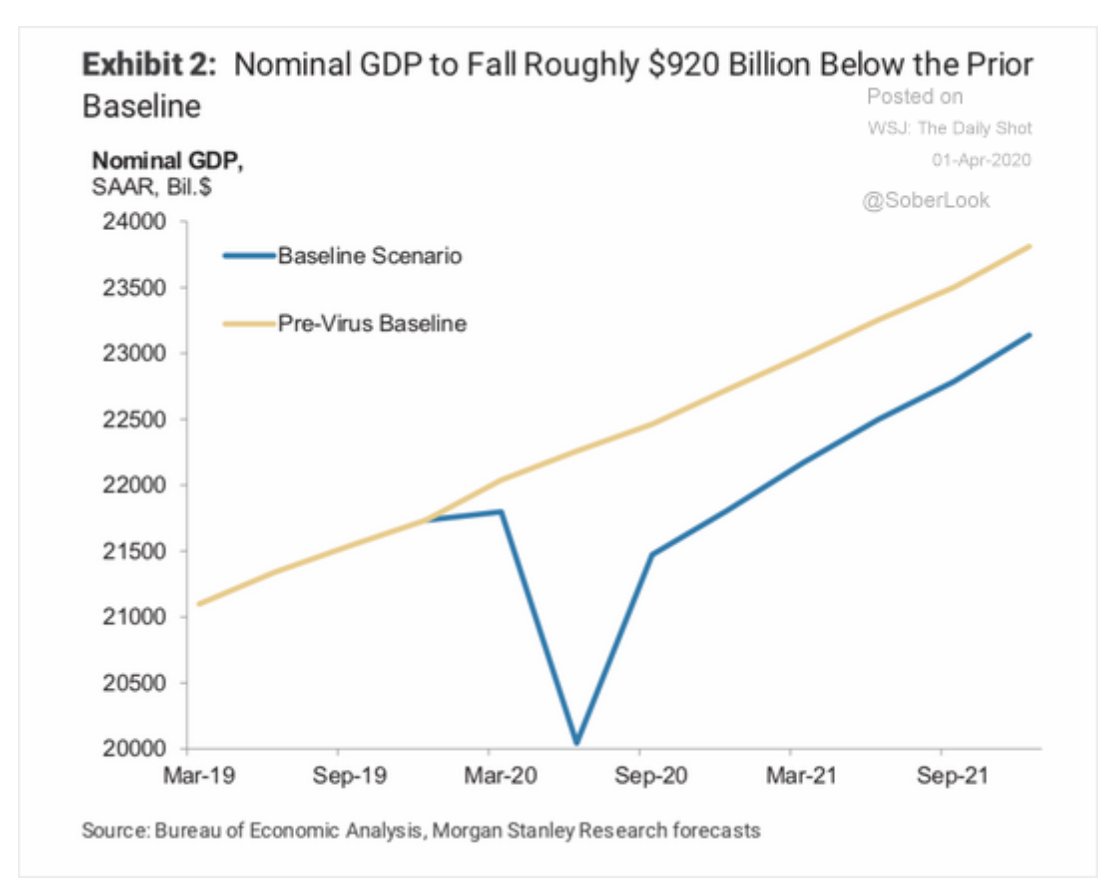 Evidence from responses to the 1918 Spanish Flu pandemic indicates that ending quarantines too early leads to more economic damage over the long run – but unemployment during that pandemic peaked at 11.7%, while ours risking exceeding 30%, so it isn't a perfect apples to apples comparison to our current situation.