60 Minutes Acknowledges Criticism of Bogus DeSantis Hit Piece – Refuses to Retract Story
Last night, 60 Minutes acknowledged criticism of their easily debunked hit piece on Florida Governor Ron DeSantis, before deciding not to retract the story because some viewers did in fact like it.
Their debunked story claimed that DeSantis gave the Publix grocery store preferential treatment to offer the coronavirus vaccines because the grocer donated to a PAC of his. Publix is the largest grocer in Florida, and hence the one you'd want to partner with to distribute the vaccine to as many people as possible. Jared Moskowitz, the Democrat Director of the Florida Division of Emergency Management chimed in to debunk any potential link following the airing of 60 Minutes' report. "I said this before and I'll say it again. Publix was recommended by Florida's Division of Emergency Management and Florida's Health Department as other pharmacies were not ready to start. Period!"
Also of note, Publix donates 54% to Republicans and 46% to Democrats, and donated to DeSantis' primary challenger in 2018. They're hardly in the tank for him, or the GOP.
60 Minutes also criticized DeSantis for prioritizing senior citizens over teachers to receive the vaccines, which is exactly what is needed to do logistically to minimize the death toll from the virus. Seniors have the highest probability of dying from the coronavirus, so a conspiracy is hardly needed to explain why they'd be prioritized for vaccination.
Most egregious, 60 Minutes deceptively edited a comment from DeSantis in response to one of their reporters. They responded to people notiving this in particular last night when acknowledging criticism.
Before reading a glowing letter from a reader who loved the deceptive reporting, correspondent Sharyn Alfonsi said "In the mail this week, comments on our story about disparities in the distribution of COVID-19 vaccine in Palm Beach County, Florida. Viewers focused on an exchange with Florida Gov. Ron DeSantis at a press conference. Some viewers, including a retired newsman, applauded the story."
"But many more comments condemned our editing and reporting," she said before acknowledging no wrongdoing whatsoever and refusing to retract her reporting.
Watch below:
For anyone new to the story, below is a transcript of what DeSantis said to 60 Minutes, with the words in bold being what they removed from his statement when quoting him.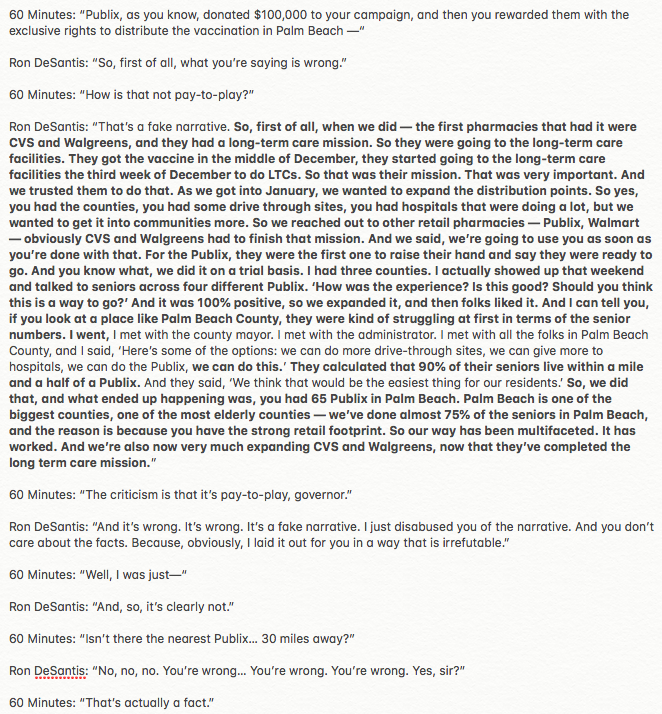 Matt Palumbo is the author of Dumb and Dumber: How Cuomo and de Blasio Ruined New York, Debunk This: Shattering Liberal Lies, and Spygate
---
Don't miss The Dan Bongino Show