Ignoring the countless actual problems the nation faces, 60 Minutes decided to lazily take a page out of the rest of the liberal media's playbook and attack the coronavirus response of Florida Governor Ron DeSantis. No other Republican Governor has faced so much criticism for doing so little wrong when it comes to their handling of the virus.
While Florida's coronavirus death toll per-capita is in line with the national average (without all the onerous restrictions) and massively lags the death toll of much-praised states like New York, there's been surprisingly little "following the science" among those urging us to follow the science.
In their report yesterday, 60 Minutes decided to push the narrative that there's some corruption present in Florida's distribution of the coronavirus vaccine. The argument is this: the grocer Publix has donated to Ron DeSantis, and DeSantis chose Publix as a vaccine distribution center. While common sense would suggest that Publix was chosen because it's the state's largest grocer (with a pharmacy) with over 800 locations, 60 Minutes thought otherwise (or at least pretended to think otherwise).
Campaign finance reports obtained by 60 Minutes show that weeks before Florida Governor Ron DeSantis announced a partnership with Publix grocery stores to distribute the vaccine in its pharmacies, Publix donated $100,000 to his PAC. https://t.co/bS3ZBeET1W pic.twitter.com/BSUlpVbXSP

— 60 Minutes (@60Minutes) April 4, 2021
Jared Moskowitz, the Democrat Director of the Florida Division of Emergency Management chimed in to debunk any potential link following the airing of 60 Minutes' report. "I said this before and I'll say it again. Publix was recommended by Florida's Division of Emergency Management and Florida's Health Department as other pharmacies were not ready to start. Period!"
@60Minutes I said this before and I'll say it again. @Publix was recommended by @FLSERT and @HealthyFla as the other pharmacies were not ready to start. Period! Full Stop! No one from the Governors office suggested Publix. It's just absolute malarkey. https://t.co/obkqYcbrzt

— Jared Moskowitz (@JaredEMoskowitz) April 4, 2021
The Democrat Mayor of Palm Beach also says the 60 Minutes report is nonsense.
Oh boy. Democrat mayor of Palm Beach County says 60 Minutes' "reporting was not just based on bad information — it was intentionally false." Says he offered to refute 60 Minutes' half-cooked conspiracy theory based on personal knowledge and "60 Minutes declined." pic.twitter.com/yJ9aRa6RMy

— Mollie (@MZHemingway) April 5, 2021
60 Minutes also deceptively edited an exchange that reporter Sharyn Alfonsi had with Gov. DeSantis two weeks ago about the rollout of the state's vaccination program. The transcript (obtained from The Daily Wire) is below, with the words 60 Minutes cut out in bold: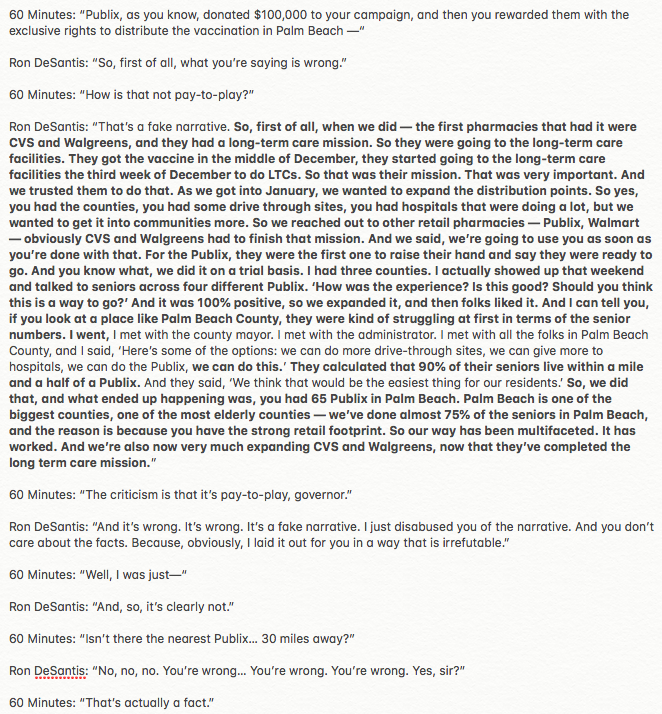 And you can watch it yourself. Below is their deceptively edited clip:
"What you're saying is wrong," Gov DeSantis tells Sharyn Alfonsi in response to a question about whether the Publix grocery store chain gained influence through a campaign donation on his behalf. "It's wrong. It's a fake narrative," he says. https://t.co/gyrW9hYPTg pic.twitter.com/5rBq7v5VOA

— 60 Minutes (@60Minutes) April 4, 2021
Versus the actual clip:
60 Minutes also attempted to shame prioritizing seniors for vaccine, claiming that they weren't high risk… when they quite literally have the highest risk of dying from the virus.
It sure would be nice if we had an honest media, wouldn't it?
Matt Palumbo is the author of Dumb and Dumber: How Cuomo and de Blasio Ruined New York, Debunk This: Shattering Liberal Lies, and Spygate