Donald Trump solidified his status as "kingmaker" last night as all 22 candidates he backed won primaries in Ohio and Indiana.
According to Breitbart:
Republican candidate Madison Gesiotto Gilbert won the Republican nomination for Ohio's 13th District, beating out six other candidates vying for the nomination, and Max Miller secured the Republican nomination for the 7th Congressional District. The other Trump-endorsed candidates who brought home primary victories in Ohio include: Secretary of State Frank Larose, Attorney General David Yost, Treasurer Robert Sprague, Auditor Keith Faber, Rep. Steve Chabot, Rep. Ben Wesntrup, Rep. Jim Jordan, Rep. Bob Latta, Rep. Bill Johnson, Rep. Warren Davidson, Rep. Mike Turner, Rep. Troy Balderson, and Rep. Mike Carey.
Most notably, JD Vance won the Ohio Republican Senate primary, and will be facing off against Democrat Tim Ryan in November.
All Donald Trump-endorsed candidates swept in Indiana as well, securing nominations in six districts. The candidates, Reps. Jackie Walorski, Jim Banks, Jim Baird, Victoria Spartz, Greg Pence, and Larry Bucshon, are all incumbents currently serving in the United States House of Representatives.

The enormous night for Trump-backed candidates follows sweeping wins in Texas on March 1, which saw candidates who garnered Trump's nod win all 32 of their races.
Perhaps the greatest impact a Trump endorsement has can be seen in the aforementioned Ohio Senate primary, where JD Vance's polling more than doubled following the endorsement, rising from third place to first in just days.
I mean… pic.twitter.com/Gz2cXQI56i

— Seth Masket (@smotus) May 4, 2022
Trump celebrated the news on his Truth Social platform, writing "22 & 0 in Ohio and Indiana! Congratulations to all of our great Republican WINNERS!"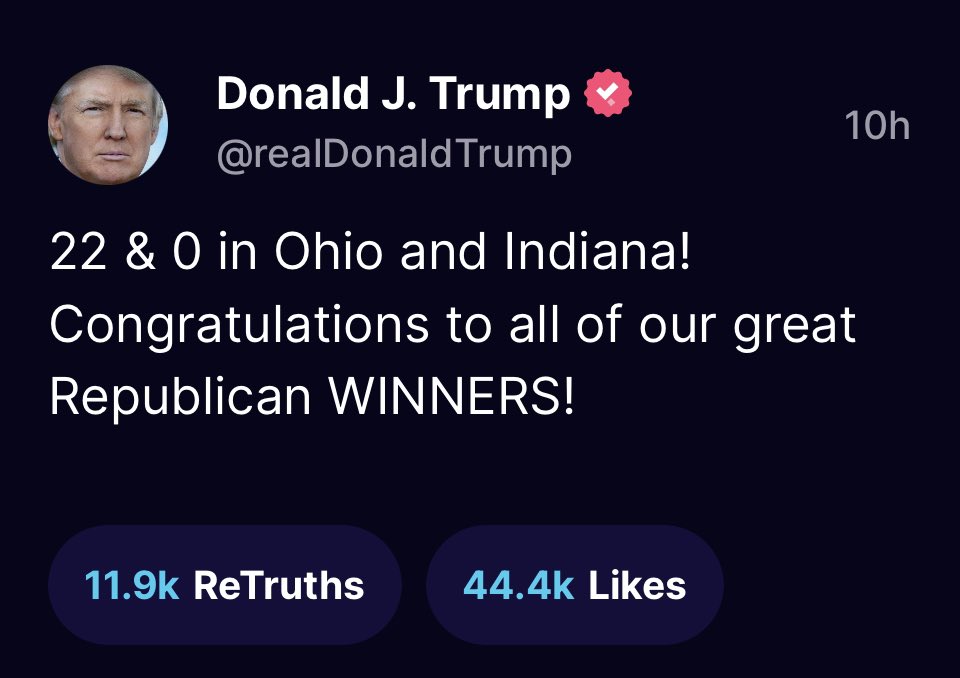 Matt Palumbo is the author of The Man Behind the Curtain: Inside the Secret Network of George Soros
---
Don't miss The Dan Bongino Show