Bloomberg: President Donald Trump Won Last Night's Debate
Michael Bloomberg made his debut on the debate stage last night – which he probably regretted only minutes in.
Elizabeth Warren immediately threw a tomahawk at Bloomberg's credibility in her opening remarks, blasting the billionaire over sexist comments he'd allegedly made. She'd later press him hard about NDAs he had women who worked for him sign – and his excuse, that they were simply because people got offended at jokes he made, were immediately met with laughter from the audience.
Joe Biden would later turn to rip Bloomberg over stop and frisk and his alleged opposition to ObamaCare, Bernie Sanders ripped him for donating money to Republicans during the Bush years, Pete Buttigieg branded him one of the most divisive people on stage, and Amy Klobuchar also drew attention to past sexist comments.
And when the candidates weren't ripping into Bloomberg, they were tearing into each other.
It didn't take long for people on social media to brand President Donald Trump the winner of the debate – and even Bloomberg admits as much.
As the National Review's Zachary Evans reports: Bloomberg on Thursday took a swipe at rival candidate Senator Bernie Sanders, asserting that nominating Sanders for president would doom the Democrats in the November elections.
"Look, the real winner of the debate last night was Donald Trump, because I worry that we may be on the way to nominating someone who cannot win in November," Bloomberg said at a campaign event in Salt Lake City, Utah. The nomination of Sanders, "who appeals to a small base," would be a "fatal error," Bloomberg asserted.
However, the former mayor indicated he would support whoever the Democratic nominee turns out to be. "If one of them wins the nomination—God forbid—I will support her or him," Bloomberg said.
President Trump reacted on twitter in agreement.
"The real winner last night was Donald Trump." Mini Mike Bloomberg. I agree!

— Donald J. Trump (@realDonaldTrump) February 20, 2020
And Tom Steyer (the other billionaire in the race) agreed as well that Trump came out the winner.
Bloomberg was hardest hit from the debate, with his odds of becoming the nominee (according to PredictIt) cratering from over 30% to 20%. Bernie saw the biggest boost, while Buttigieg and Warren got minor boosts.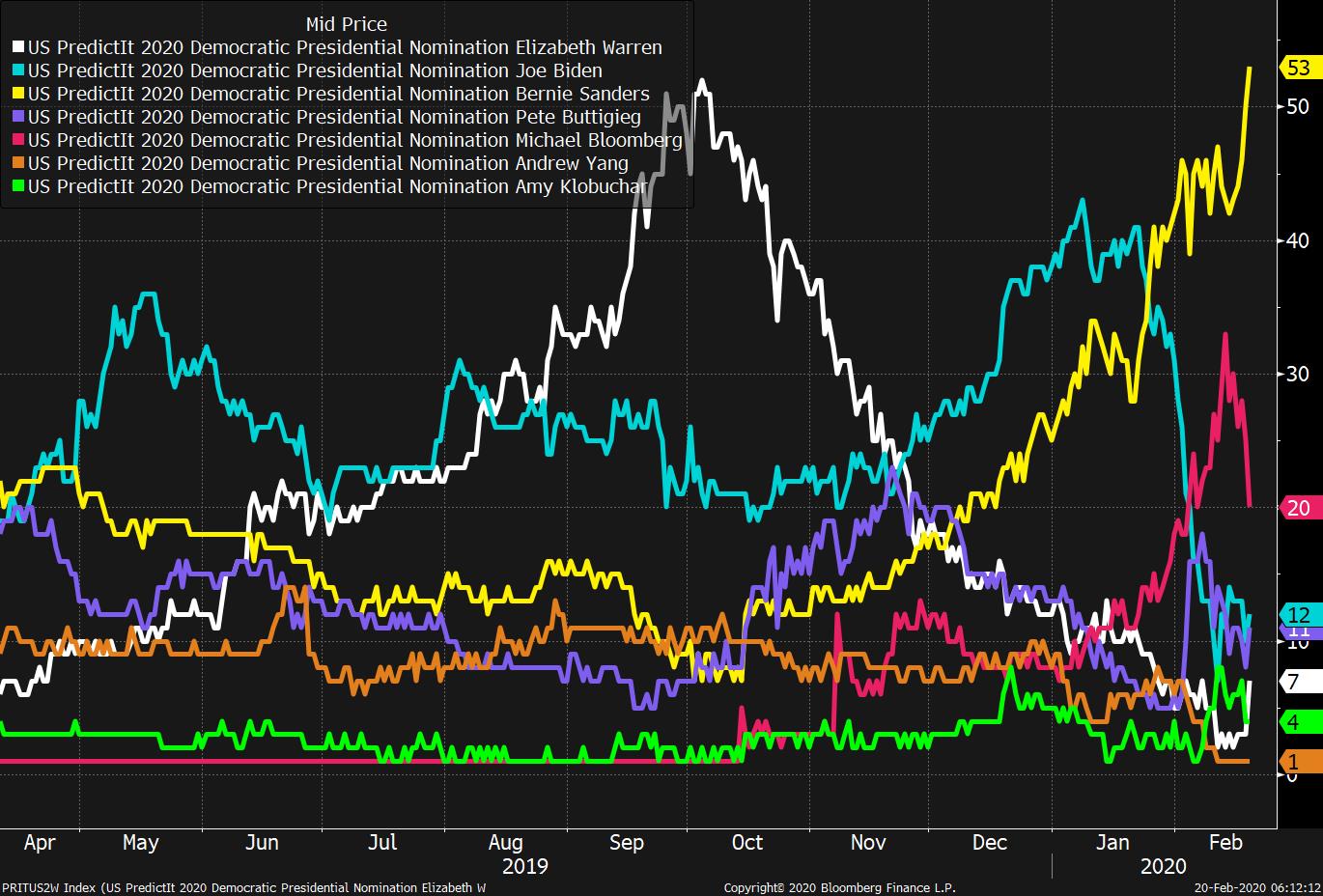 Ironically, the chart is sourced from a Bloomberg Terminal.