DOJ Dunks on Andy McCabe's Wrongful Termination Case
In August of last year, former Deputy FBI Director Andy McCabe sued the Trump administration for what he called an "unlawful" termination.
Whatever case he thought he had then has been obliterated by recent developments, including the IG report and the DOJ admitting that two of the warrants used to surveil Carter Page were unlawful. One of the invalid applications, dated April 7, 2017 was signed by disgraced former FBI Director James Comey. The other, dated June 29, 2017 was signed by McCabe and former deputy attorney general Rod Rosenstein.
Even McCabe was forced to admit following the release of the IG report that the FBI suffered from an "inherent weakness in the process" of obtaining FISA warrants. The IG report's language was a tad harsher – accusing McCabe of "lacking candor."
Documents released earlier in the month indicated that the DOJ is considering prosecuting McCabe over leaks he made to the media. We'll have to wait and see if they move forward with that – but the DOJ has responded to McCabe's lawsuit in an amusing fashion, and it's bad news for him.
"Undercover Huber" has the scoop:
Recap:

—McCabe investigated by IG, caught lying

—Fired by FBI

—Not yet indicted for lying

—McCabe sues DOJ for wrongful dismissal (Orange Man Bad)

—DOJ files motion to dismiss

—McCabe opposes

—DOJ files second motion to dismiss or to grant summary judgement <—we are here

— Undercover Huber (@JohnWHuber) January 24, 2020
Things take a humorous turn when we hear McCabe's defense for why his termination was unlawful – because he had already resigned hours before he was officially fired, and because his termination was after work hours. In other words, his defense is the workplace equivalent of of "you can't break up with me if I break up with you first."
Needless to say, the DOJ wasn't impressed. "[The] Plaintiff's tour of duty argument is flawed: An FBI Agent's day does not stop at 5 p.m., even on a Friday."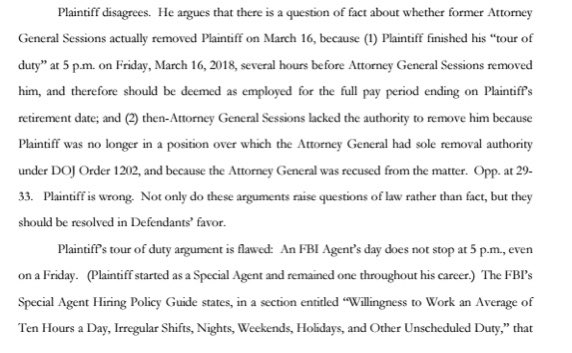 The DOJ then cited the FBI's handbook that proves as much.

The DOJ also informs McCabe's lawyers that no "alleged discovery [will] vindicate [the] Plaintiff's startling submission that, contrary to the FBI's Special Agent Hiring Policy Guide, its website, and common sense, an FBI Special Agent's work day ends at 5 p.m."

In response to claims from McCabe's lawyers that they didn't get enough time to argue their case, the DOJ pointed out that the Constitution says otherwise.

The DOJ also dismisses McCabe's conspiracy that President Trump ordered his firing, and references the IG report's determination that McCabe lacked candor and made unauthorized disclosures.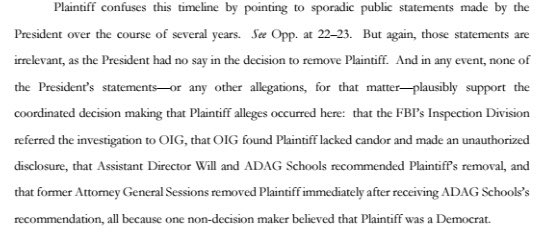 In conclusion, the DOJ states "For the reasons stated above, and in Defendants' opening brief, the Court should dismiss Plaintiff's Complaint, or enter summary judgement in favor of Defendants."
For once, sanity may prevail.