Hunter Biden Under Federal Investigation Over Tax Issues
Interesting how this didn't happen until after the presidential election, isn't it?
We just learned via a statement from the Biden Transition Team, that Hunter Biden was just "made aware" that his tax affairs were under federal investigation.
According to Hunter's statement in the press release: "I learned yesterday for the first time that the U.S. Attorney's Office in Delaware advised my legal counsel, also yesterday, that they are investigating my tax affairs. I take this matter very seriously but I am confident that a professional and objective review of these matters will demonstrate that I handled my affairs legally and appropriately, including with the benefit of professional tax advisors."
The Biden transition team also released the accompanying statement: "President-elect Biden is deeply proud of his son, who has fought through difficult challenges, including the vicious personal attacks of recent months, only to emerge stronger."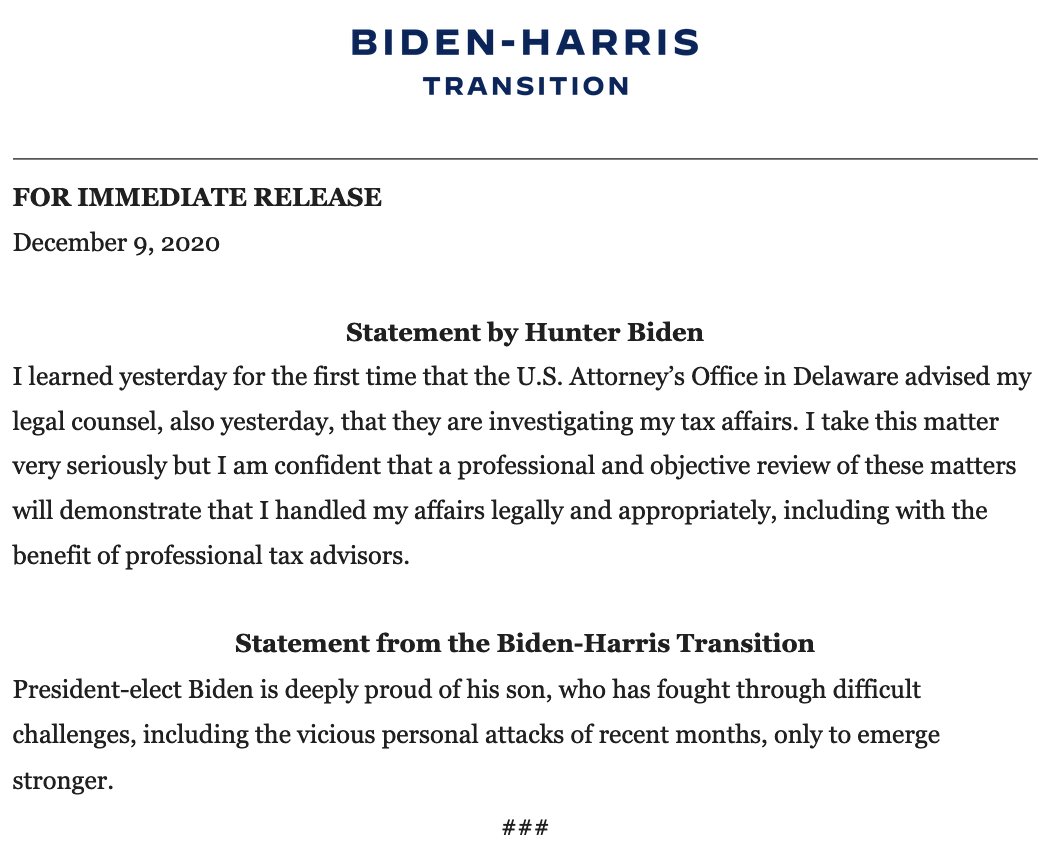 The Daily Caller's Andrew Kerr reported last year that the IRS placed a $112,000 lien against Hunter in 2015.
Hunter has always been a source of controversy for the Biden campaign (hence his lack of public appearances with his father until after the election) – and our tech overlords made it clear that they'd rather us not know much about him.
When the New York Post published a damning expose on Hunter back in October, Twitter locked the Post out of their account for weeks, not granting them access until Twitter CEO Jack Dorsey was summoned to testify before Congress.
Twitter took other extreme actions in disabling the sharing of the New York Post article, while suspending accounts of high-profile individuals who shared it. Facebook, on the other hand, introduced implemented "visibility measures"  to reduce the reach of the story and made the sharing of this Post article eligible to be fact-checked (which can throttle the traffic of the Facebook page that shared the article).
If it was the New York Post that broke this news and not the Biden Transition Team, big tech probably would've censored this story already too.