Illegal Border Crossings Collapse to Near Zero
In the midst of a global pandemic, there's finally some good news at the border, at least for the time being.
As was reported a few weeks ago, the coronavirus led to even Mexico finally taking border security seriously. "Mexico could consider measures at its northern border to slow the spread of the coronavirus into its relatively unaffected territory, health officials said, with an eye to containing a U.S. outbreak." President Trump restricted all non-essential travel between the U.S. and Mexico not longafter.
There was even one report of Americans attempting to enter Mexico being turned away due to protesters demanding they be screened for coronavirus first. The tables sure have turned, haven't they?
Deterred by the sudden lack of employment opportunities in the U.S., border crossings have practically fallen to zero. According to the Washington Examiner's Anna Giaritelli reports:
The number of foreigners arrested for illegally entering the United States from Canada, Mexico, and along the coasts have dropped to almost nothing in the past week as the U.S. became the world leader in confirmed cases, according to Department of Homeland Security officials.

Only 79 people were encountered Sunday by Border Patrol agents nationwide after they had attempted to enter the country between ports of entry. Border arrests reflect the number of people attempting to cross.

If that rate continued over the course of a month, it would make for fewer than 2,500 apprehensions, a drop in the bucket compared to the 30,000 arrests that agents made just on the southern border in February and 132,000 at the peak of the border crisis last May.
While this is a temporary reduction due to the coronavirus, there has been progress made on the border in the midst of the pandemic that got lost in the news. While there's plenty more to build, new border wall construction now totals 151 miles (which doesn't include existing parts of the wall being renovated or reinforced).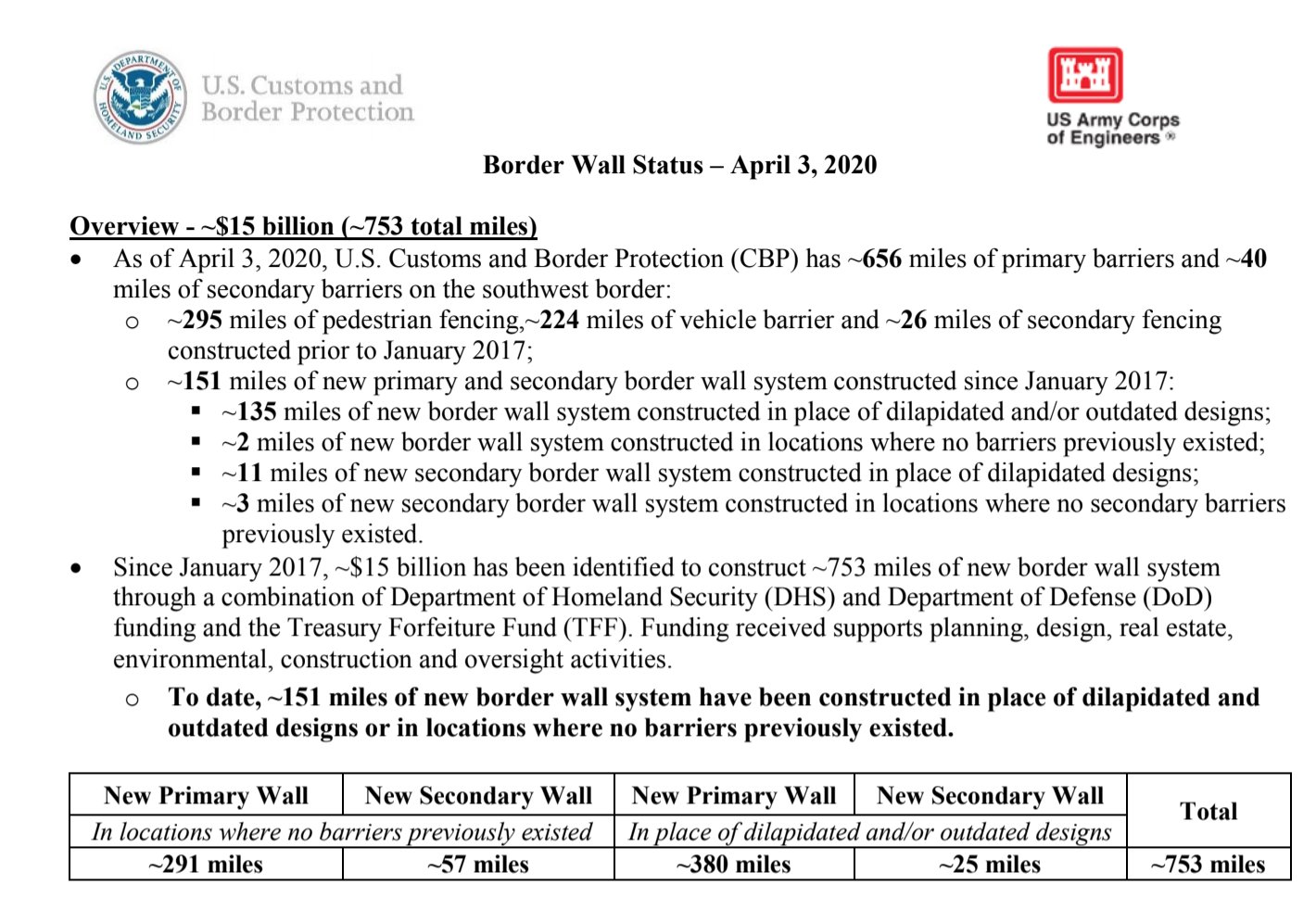 Overall, the administration aims to build 450 miles of new wall by year end.