The "Dunning-Kruger effect" – that those with limited abilities tend to greatly overestimate them, explains much about our media landscape today.
While an entire book could be written on the incompetence of America's media class and the bogus narratives they spread, here are just a few examples.
The Savior Andrew Cuomo
As the coronavirus pandemic began wrecking havoc on America, the media made it clear that one man was doing the right thing: New York's Governor Andrew Cuomo. Dr. Fauci was among those in the medical community singing his praises, calling New York a model for fighting the virus. "We know that, when you do it properly, you bring down those cases. We have done it. We have done it in New York" Fauci told PBS in July.
The mainstream media did more than anyone else to promote Cuomo, boosting his approval rating to record highs during the beginning of pandemic.
By October the womanizer released a book on his "leadership lessons" from the pandemic, which was published right before an explosion in coronavirus cases in the Empire State. He also received an Emmy for some reason.
Andrew Cuomo has already received two major awards and wrote a book about his coronavirus leadership.

December 4 was the day with the second-most covid cases in NY since the pandemic began. pic.twitter.com/awl1MjT20T

— Noam Blum (@neontaster) December 10, 2020
At every stage of the pandemic New York has had the highest coronavirus death rate per capita in the country after New Jersey, so no one can plead ignorance here. Not only that, as I noted in my book about Cuomo and Bill de Blasio (appropriately titled "Dumb and Dumber"), if New York were its own country it would have had more coronavirus deaths per capita than any country on the planet last year.
Perhaps his book still works if the leadership lessons are in what not to do.
Aaron Rupar
Vox's Aaron Rupar has earned a reputation for himself as a sort of one-man Media Matters, actively posting clips from conservative news shows on Twitter, often with misleading captions that don't reflect the actual content of the videos he's posting.
Recently, following the Atlanta salon shootings, Rupar posted a clip showing a police officer quoting the perpetrator saying that he had a "bad day." Rupar posted a misleading edit of the clip to make it look like the officer himself was saying that was the cause of the shooting, which caused a media firestorm because no one in the media could've been bothered to watch the full clip in context.
But Rupar's deceptive "reporting" is a topic for a whole other article.
Rupar is a propagandist so poor that he can't even seem to remember what he himself believes. Below are just a few examples proving that cognitive dissonance isn't something his brain is capable of experiencing.
Within a 24-hour period, Rupar once went from praising those celebrating outside the White House in crowds after the media called the 2020 election for Biden, to condemning students for gathering at a sports game during a pandemic.
He got really upset when Stephen Miller started quoting the coronavirus death toll under Biden in terms of how many "9/11s" it was (because liberals used to do that all the time)… forgetting that he himself was one of those liberals.
He called out Republicans for their "notorious immigration lie" that there were terrorists being caught at the border… just hours after CBP had confirmed that there were indeed terrorists apprehended at the border.
And there are countless other examples just like this (read them all here in this list that led to him blocking me on Twitter).
The Internet Hall Monitors
Similar to Rupar, the rise of so-called "Internet Hall Monitors" is a phenomenon that has sprung up almost exclusively on the left. Noticeably, a good deal of those in "internet hall monitor" type journalism seem to be willing to cater their self-professed ideology to whoever will give them a job.
CNN's Oliver Darcy, who seems to spend more time watching (and then complaining about) Fox News than his own network, is exhibit A. A formally self-described "conservative-leaning libertarian," Darcy once founded ExposingLeftists.com, and then worked for Campus Reform. After Campus Reform, he worked for Glenn Beck's "The Blaze" as deputy managing editor. He'd leave The Blaze for Business Insider before joining CNN in spring 2017. In one viral video for Campus Reform Darcy asked college students if they'd support redistribution of GPAs to make a point about socialism. After failing to gain any real traction, he ended up pitching him to the left, where there are no standards in journalism.
The Elmo-voiced blogger Zachary Petrizzo is cut form a similar cloth. While he's now writing hard hitting pieces of journalism such as "Why Is Testicles Trending on Twitter," "Greg Kelly Goes Pull Ups to Try and Impress Marjorie Taylor Greene," and "Newsmax Anchor Deletes Tweet Complaining That His Co-Workers Didn't Invite Him on Trip," he initially tried (and failed miserably) at making it on the right.
Petrizzo initially jumped on the scene as a right-wing snowflake, making headlines for leaving his college because he couldn't handle being around people who think differently than him (something literally every conservative has experienced at college). On the conservative media scene, he was forced out of the pro-life "Live Action" after his incompetence exposed them to legal threats, which came after he, like Darcy, left Campus Reform in disgrace. Apparently even his new bosses on the left can't trust him to cover anything marginally substantive, hence he's since been relegated to watching and reporting on TV shows and tweets.
In response for request for comment, Petrizzo challenged Dan Bongino to a debate on an unspecified topic. That could prove challenging however, as we have no reason not to believe Petrizzo's ideology might randomly do another 180 mid-way through the debate.
The Media Keeps Confirming Stories That Turn Out to Be Fake 
That jihadists want to kill Americans is no secret. That killing Americans is something Jihadists need financial compensation to be incentivized to do so would be a bizarre claim to make – but it's one the entirety of the media reported on last year.
As Donald Trump started making plans to withdraw troops from Afghanistan, the New York Times reported a bombshell claim: that Russia secretly offered the Taliban bounties to kill U.S. troops, according to "American intelligence officials." Now that Joe Biden is in office, and is following through with Trump's plan to withdraw all the troops there, that story is suddenly being refuted in what must be the most convenient timing ever. We now learn that U.S. intel only ever had "low to moderate" confidence in the story to begin with.
The swamp would do everything they can to thwart any Trump imitative – only to allow Biden to then follow through with the same simply because he's not Trump.
Here are just a few examples of the Daily Beast's Noah Shachtman aggressively pushing the claim: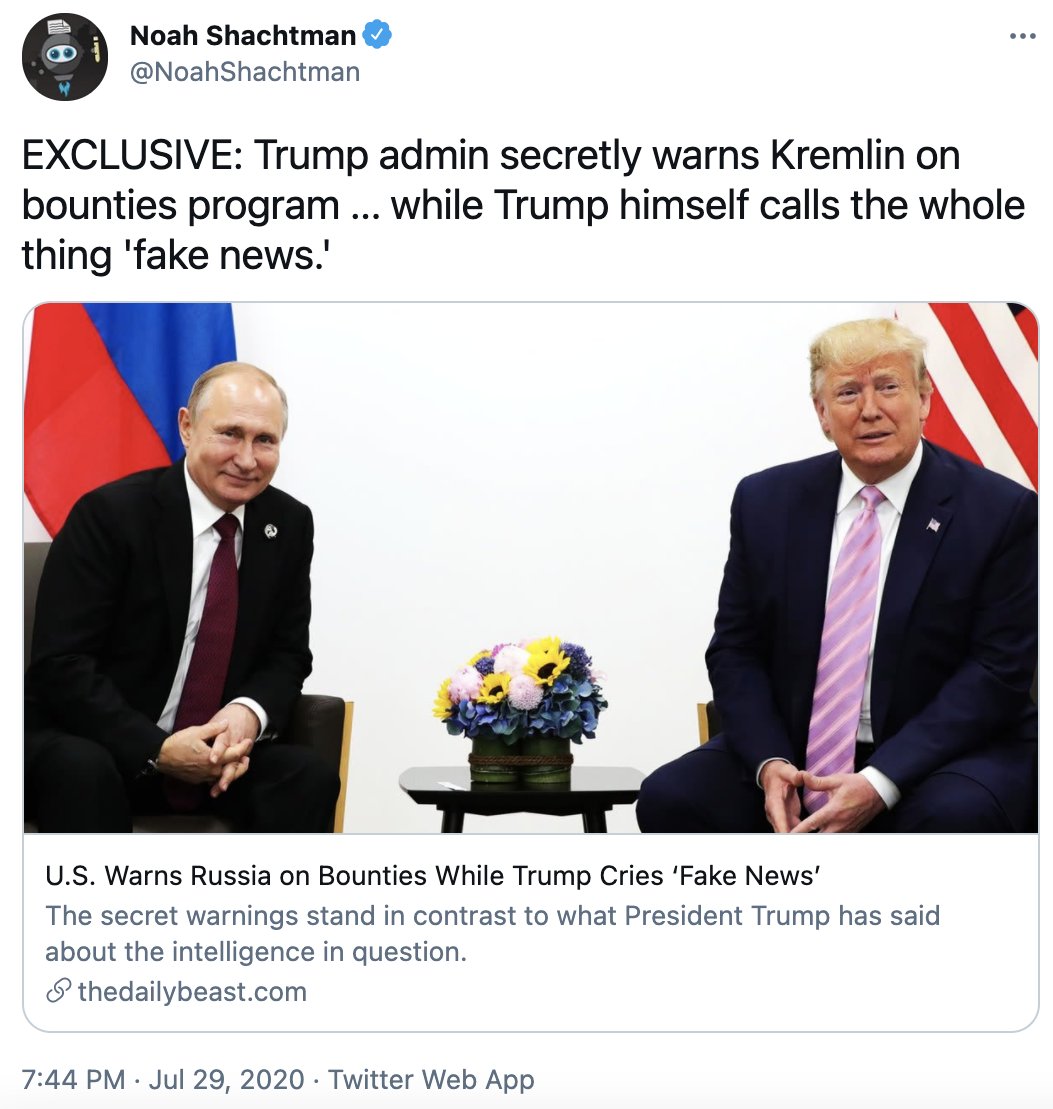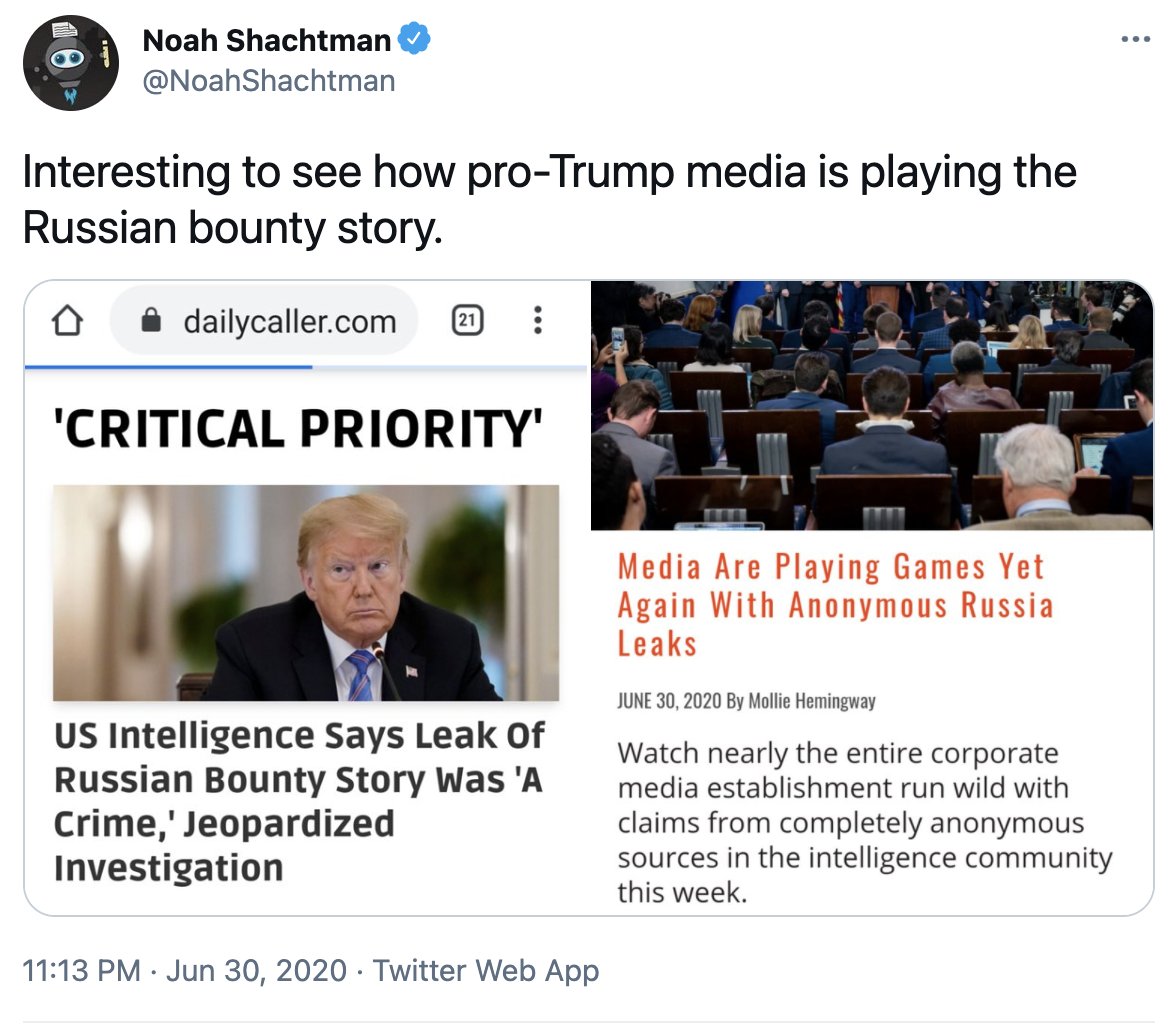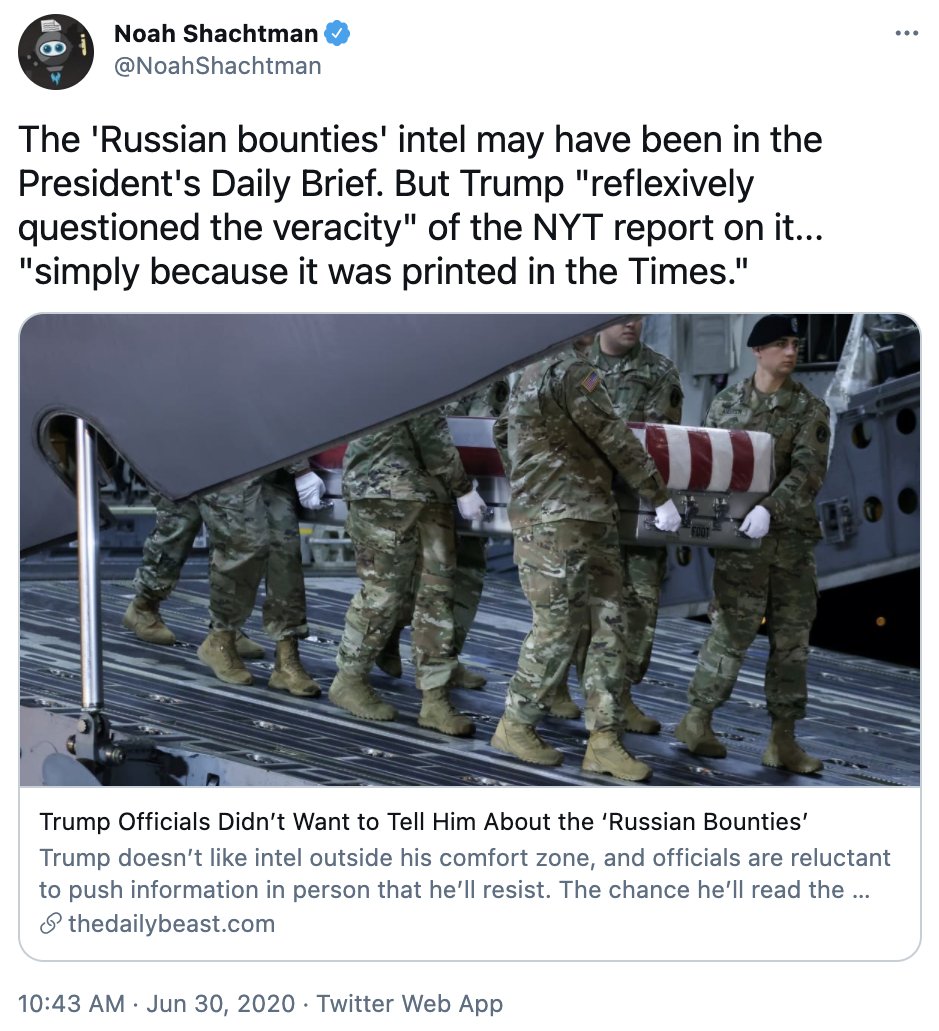 Only for it to eventually be followed up with this:
NEW: U.S. intel walks back blockbuster 'Russian bounties' claim https://t.co/jtPzfALH1L

— Noah Shachtman (@NoahShachtman) April 15, 2021
Something happened similar with the Washington Post recently too. The Post initially reported in January that Trump told an official working in Georgia Secretary of State Brad Raffensperger's office to "find the fraud" in the state, telling them that they would be a national hero if she did. The call took place on December 23rd, and was just released last month, proving that Trump never said that. In reality, Trump said that this unnamed official would be praised when the "right answer comes out" and encouraged them to examine mail-in ballots in Fulton county. NBC News, USA Today, ABC News, PBS NewsHour, and CNN all claimed to have independently verified the story.
As always, those who were catastrophically wrong never acknowledge or apologize for it.
The Economic Igor
Lastly, Paul Krugman comes as an example that even the highly credentialed and accomplished can sound like fools when they speak outside of their area of expertise…. or within it.
To give just a sampling of his false predictions:
On election night 2016 stock market futures fell as it became evident that Trump was going to win the election. Krugman predicted that markets would *never* recover and the economy would fall into recession.
In 1998, Krugman dismissed the rise of the internet's popularity and its eventual economic effects: "The growth of the Internet will slow drastically, as the flaw in 'Metcalfe's law'–which states that the number of potential connections in a network is proportional to the square of the number of participants–becomes apparent: most people have nothing to say to each other! By 2005 or so, it will become clear that the Internet's impact on the economy has been no greater than the fax machine's."
Only four years later Krugman came up with a plan to save the economy from the technology bubble which had just went bust – create another economic bubble! "To fight this recession the Fed needs…soaring household spending to offset moribund business investment. [So] Alan Greenspan needs to create a housing bubble to replace the Nasdaq bubble." And with that came the worst financial crisis since the great depression (until COVID).
Krugman called the US "just a bystander" in global energy only months before America surpassed Russia to become the world's biggest oil and gas producer.
And my favorite example; Krugman dismissed Bitcoin in July 2015 as a "bubble rooted in libertarian ideology." A $10,000 investment in Bitcoin in July 2015 would be worth roughly $2.45 million as of writing.
Matt Palumbo is the author of Dumb and Dumber: How Cuomo and de Blasio Ruined New York, Debunk This: Shattering Liberal Lies, and Spygate
---
Don't miss The Dan Bongino Show