Could we be headed for a V-shaped recovery after all? After adding 2.5 million jobs in May, we learn today that retail sales that month saw their largest single month gain ever.
According to CNBC:
Retail sales shattered already-lofty expectations for May as consumers freed from the coronavirus-induced lockdowns began shopping again.

The 17.7% headline gain including food sales easily topped the previous record from October 2001 and beat the 8% estimate from economists surveyed by Dow Jones.

Retail sales alone powered 16.8% higher from a month ago, more than double the estimate of 8% from Dow Jones and reversing a 16.4% plunge from a month ago. Clothing and accessories stores reported the biggest percentage gain at 188% while sporting goods, hobby, musical instruments and book stores rose 88.2%.

Excluding motor vehicles and parts, which popped by 44.1%, May's gain came in at 12.4%, which also is the best on record going back to 1967.
Charted below is the percent increase in context: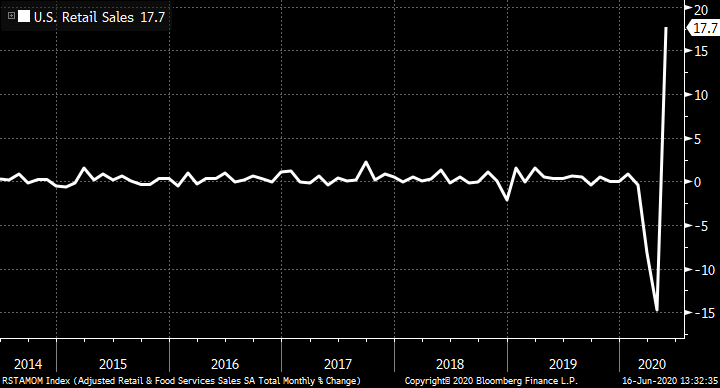 Total retail still remain lower than the pre-coronavirus trend, however: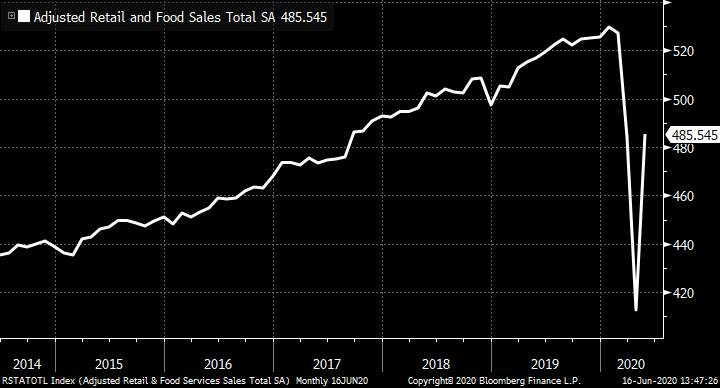 President Trump took to twitter to celebrate the news.
https://twitter.com/realDonaldTrump/status/1272871304572678144?
Earlier in the month we learned that the economy had added 2.5 million jobs, with the unemployment rate falling to 13.3%. Analysts expected that eight million jobs would be lost – exposing an incredible margin of error of 10.5 million jobs.
Most jobs added were at restaurants (which have disproportionately than other businesses during the pandemic), while government employment actually fell by 585k.
GAINS
Restaurants: +1.4 million
Construction: +464,000
Healthcare: +312,000
Retail: +368,000
Manufacturing: +225,000
Business: +127,000

LOSSES
Government: -585,000
Hotels: -148,000
Air transport: -50,000

— Stephanie Myers (@_StephanieMyers) June 5, 2020