Any journalist tasked with finding evidence of journalistic standards over at The Hill has an impossible feat ahead of them.
While most news organizations set out with the goal of reporting the news, The Hill has quite literally been doing the exact opposite of that.
Just yesterday the self-described "journalist/social media curator" Sarah Polus published an article that seemingly invented the news from thin air.
The article was about Kelly Loeffler, and was titled "Loeffler's campaign defends photo with white supremacist and reported former KKK leader Chester Doles," despite the fact that she did no such thing.
This tweet has been up since 3:41pm PST. It is currently 7:30pm PST and this tweet is still up on @thehill despite a rewrite being published at 5:45pm PST. pic.twitter.com/zpcczXFaub

— Beth Baumann (@eb454) December 14, 2020
After much blowback by people aware of the real story, the headline was later changed to reflect what actually happened: "Loeffler's campaign condemns white supremacist who appeared in photo."
Or in other words, it was changed to a headline that reflects the polar opposite message of what Polus initially claimed. You can see a comparison between the key part of her original and revised/accurate article below.
Original: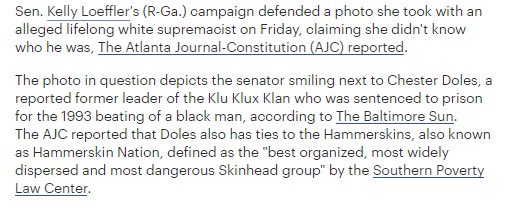 Rewritten:

There wasn't even initially any note that the headline or content of the article being changed after corrections were made until people complained about that too. Now the end of the article has an editor's note: "The headline on this story was updated at 8:45 p.m. to reflect that Sen. Loeffler condemned Chester Doles, a white supremacist who posted a photo with the senator. An earlier version of this story included incorrect information." And by "included incorrect information" they mean "the entire premise of the article was false and people noticed."
Fortunately for Polus she has a left-wing perspective, and thus doesn't have to worry much about facing any consequences for her journalistic malpractice and/or laziness.
This comes just days after she attempted to smear Josh Hammer, a conservative opinion editor at Newsweek.
The focus of the article was Hammer's criticism of TV journalist Medhi Hasan. In response to Hasan complaining about Democrats not being tough enough on Israel, Hammer replied "Your Qatari $$$ at work," referencing the fact that Hasan used to work for the Qatar-funded state propaganda network Al Jazeera.
"Imagine if I tweeted at a Jewish journalist saying 'your Israeli $$$' at work. I would be (rightly) fired. This guy works for Newsweek" fired back Hasan, who has no problems with Ilhan Omar tweeting about Israel "hypnotizing the world" and claiming that Jews own our Congress.
"For the record, I am not Qatari and I do not receive 'Qatari $$$'. I'm British and American," Medhi continued, pretending to be unaware that Hammer was obviously referring to his former employer and not this ethnicity.
Polus inevitably chose to run with the least accurate angle possible, headlining her article "Mehdi Hasan blasts tweet from Newsweek opinion editor: 'This is racism plain and simple'" – the validity of the racism charge be damned.  It wasn't even until four hours after the article was published would they include comment from Hammer denying that his claim was racist… because it wasn't.
What atrocious intellectual dishonesty this is, @thehill. No mention whatsoever in here of Al Jazeera—which was, contrary to those who willfully and disingenuously misinterpreted it, the *entire* point of the tweet.

Pathetic. https://t.co/V1ihiFhd3m

— Josh Hammer (@josh_hammer) December 11, 2020
This continues a longstanding tradition of misleading headlines over at The Hill. To give just a few examples:
When Florida Governor Ron DeSantis said in August 2019 that voters shouldn't "monkey this up by enacting a socialist agenda with huge tax increases," The Hill ran the headline "DeSantis: Florida voters shouldn't 'monkey this up' by voting for black candidate."
When the Trump administration announced in December of 2017 they were temporarily taking down the White House petition website to then replace it with a new website the next month, The Hill's headline was "Trump admin to take down White House petition website after not responding to any petitions."
Also in December of 2017 they reported on the sexual misconduct allegations against Democrat Rep. John Conyers, referring to him as a Republican throughout the story.
And to give one last example that may just reflect the reading comprehension of The Hill's staff, President Trump mocked the idea that glitches were responsible for tens of thousands of texts between Peter Strzok and Lisa Page going missing. "Where are the 50,000 important text messages between FBI lovers Lisa Page and Peter Strzok? Blaming Samsung!" The Hill reported on this mockery as if it were a legitimate scoop: "JUST IN: Trump blames Samsung for missing text messages between FBI agents critical of Trump" they tweeted out.
There are countless other examples of course, but few readers have time to spend the next ten hours of their lives reading this article.
What will The Hill come up with next? Stay tuned until tomorrow!